The Leader in Sewer Repair in Raleigh, NC, and the Surrounding Areas
Sewer lines play an important role in the many things you do around your home each day. This is why any signs of a problem shouldn't be dismissed or ignored. When it's time for sewer repair in Raleigh, NC, or nearby areas, Optimal Plumbing Solutions is the company to trust to get the job done properly and in a way that won't strain your budget.
Benefits of Professional Sewer Repair Services
Having sewer lines professionally repaired ensures the work is done as per industry and local regulations. What's more, you'll know for sure your sewer lines are once again ready to do what they were intended to do. Sewer pipe line repair ultimately saves you a lot of time and money by minimizing the risk of related damage to your property from sewage overflows or backups. We serve:
Expert Sewer Line Repairs
Having a sewer line that needs sewer repair services is never something to ignore or brush off. After all, leave the issue long enough and the smell will end up being just as big of an issue as the repair. Your sewer line plays an important role in many parts of your life, such as bathing, washing clothes, and using the toilet.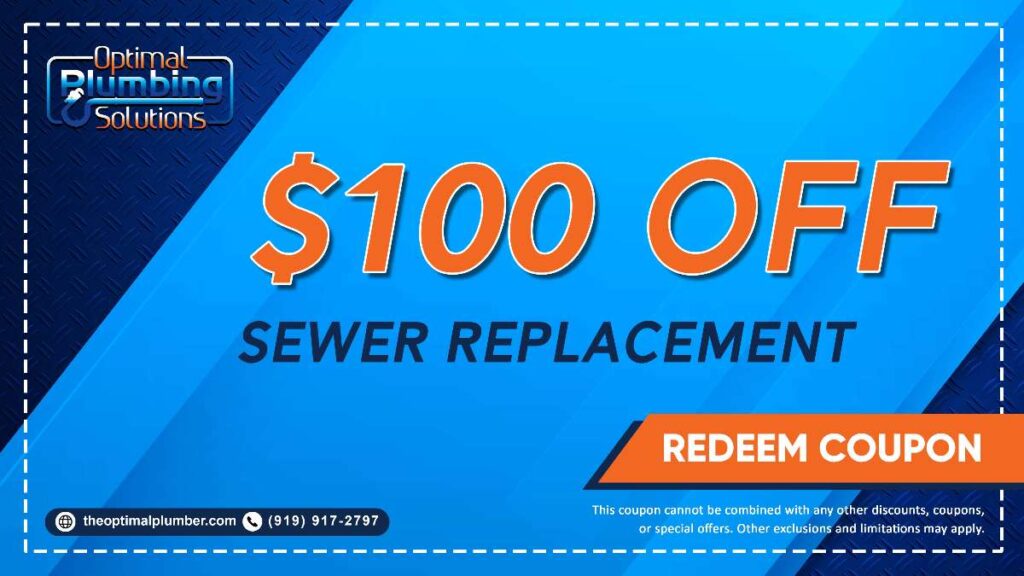 CAUSES FOR SEWER LINE FAILURE:
Residential sewer lines are designed for many years of use. But like many things around your home that are used regularly, sewer pipes don't last forever. Potential reasons why your home's sewer line may fail at some point include:
Root intrusion
Blockage
Broken lines
Lines sag, causing a "belly" in the line
SIGNS YOU HAVE A SEWER LINE PROBLEM:
It's not unusual for smaller sewer issues to go unnoticed for several months or years since sewer lines aren't pressurized. However, there are times when signs of a problem become noticeable. The main signs suggesting you likely need repair or sewer line replacement include:
Sewage back up
Sewer gas odor
Multiple slow clogged drains
Sewage pooling in the yard
How Does the Sewer Repair Process Work?
At Optimal Plumbing Solutions, we also offer Camera Inspections for sewer lines along with a variety of repair and replacement options. Video cameras are one of the most valuable tools in the plumbing business. Specially designed waterproof plumbing cameras allow our plumbing company to conduct a visual inspection of sewer lines and other underground pipes, including pipes under cement and under your home's foundation.
Sewer Repair FAQs
Established in 2018, we're a customer-focused, family-owned and -operated business that understands the importance of quality work. Trust our knowledgeable plumber in Raleigh, NC, or nearby areas to fully restore your sewer lines while providing first-rate service that includes:
Timely, detail-oriented service
Courteous plumbing pros respectful of your home and property
Reasonable priced services and solutions
Your satisfaction guaranteed
Contact Our Sewer Service Pros
If you're not sure what's happening with your residential sewer lines in Raleigh, NC, get in touch with the team from Optimal Plumbing Solutions. We have more than 15 years of home plumbing experience to draw from when it comes to the services we provide locally. Call us or fill out the form today for: