Your Local Specialist for Sewer Repair in Clayton, NC
Residential sewer lines come with many responsibilities for homeowners, one of which is often taking care of any necessary repairs. When you're starting to see signs the sewer pipes leading to your home need some attention, Optimal Plumbing Solutions is prepared to help. Stress less by taking advantage of our professional sewer repair in Clayton, NC.
Top Benefits of Professional Sewer Repair
Most homeowners don't have easy access to the tools, equipment, and parts required to diagnose and address sewer-related problems. Fortunately, our plumbing team has the skills and the assortment of accessories and equipment necessary to conduct a broad range of sewer repair services. Hiring a professional from the Optimal Plumbing Solutions team to do the job also comes with benefits that include:
Careful attention to safety when making repairs
Adherence to applicable codes, guidelines, and standards
Ensuring the full extent of the problem is discovered and addressed
Protecting your property from damage that could occur with sewer issues not fully resolved
Additionally, professional sewer repair is more efficient, convenient, and budget-friendly for our clients. Our team also has extensive experience with the many sewer issues common in the area. What's more, because we're a local plumber in Clayton, NC, we're able to arrive as quickly as possible in our fully stocked trucks when sewer lines need some attention.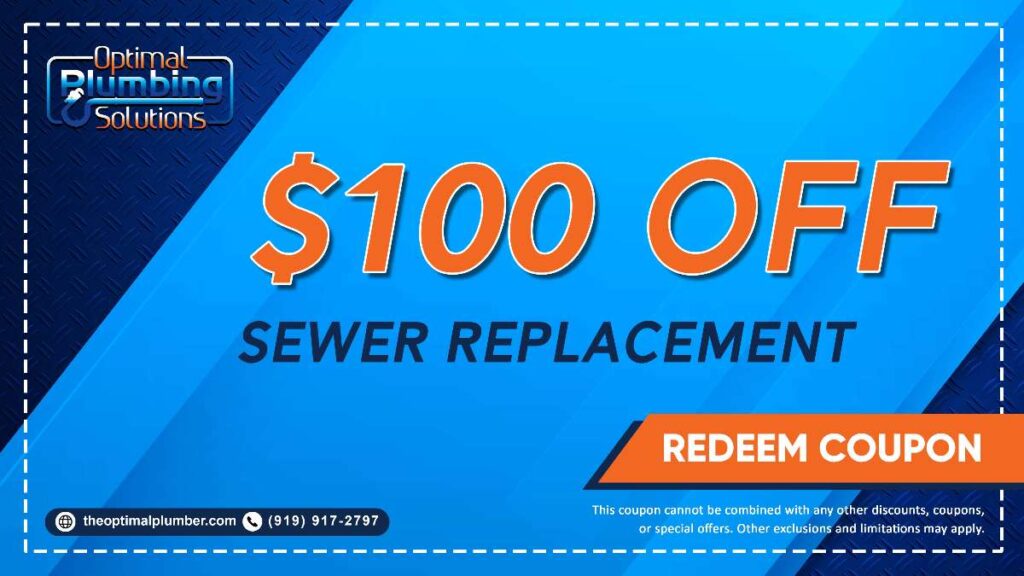 Signs You Need Sewer Repair or Replacement
It's not unusual for sewer-related problems to develop at a more gradual pace, like what typically occurs with tree root intrusions. This is why it's important to keep an eye out for any signs suggesting you may need sewer line replacement or repair. The main ones we recommend paying attention to include:
Sewage seepages, overflows, or backups
Strong, foul sewer-related odors that linger or keep coming back
Issues with several drains in your home
Wet spots in your yard or in other areas around sewer line locations
What to Expect with Sewer Repair
Our approach to sewer pipe line repair depends on the location and nature of the issue. This may involve repairing the area that's affected if it's a more localized problem. If the damage is more widespread or extensive, however, replacement may be what's best. With any type of sewer repair work we do, you can expect an honest, pressure-free opinion. You can also expect results clear answers and sensible solutions from our licensed and certified technicians.
Why Hire Our Team
We're a family-owned and -operated company that makes it more cost-effective and ultimately beneficial to repair and replace sewer line pipes with customer-oriented service that includes:
Fair rates suitable for your budget
Punctual arrivals for appointments and service requests
Reliable, honest service
More than 15 years of local experience
Contact Our Sewer Service Pros Today
At Optimal Plumbing Solutions, we personalize our services based on what ends up being best for our customers. Our plumbing company will help you make this determination by starting with a quick, easy, and informative video camera inspection. Contact our team today if you have any sewer line concerns in Clayton, NC. We also specialize in water heater repair in Clayton, NC.