The Top Provider of Sewer Repair in! Raleigh, NC
It's not pleasant, but most homeowners have to deal with sewer-related issues at one time or another. Make the process of figuring out how to repair or replace sewer line pipes less stressful and much more cost-effective and productive by turning to Optimal Plumbing Solutions. We offer a full range of sewer service options that include video inspections, sewer line replacements, and repairs that get your home's sewer pipes working again as expected.
Why Professional Sewer Repair Is Important
Sewer lines are complex and often difficult to access, repair, and examine without the right tools, resources, and skills. By letting our experienced local pros take care of sewer repair in Raleigh, NC, you'll get instant access to everything necessary to restore your sewer lines. Our team's repair work also means no details are overlooked, including anything that applies to local regulations and codes. Professional sewer repair further benefits you by reducing the risk of damage to your property. The added peace of mind that goes along with knowing everything is done right is another appealing benefit.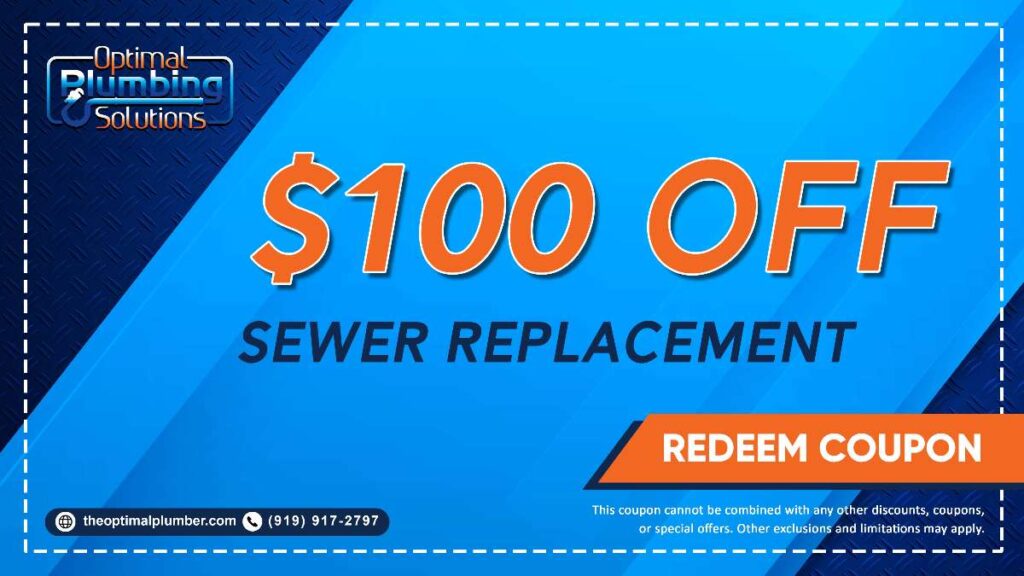 Signs Sewer Repair or Replacement May Be Imminent
Experiencing recurring sewage backups is one of the more noticeable signs it's time to find out if you might need sewer line replacement or repair. This may also be the case if you're noticing:
A soggy backyard in certain spots
Lingering or strong sewer odors
Difficulties with multiple drains in your home
Foundation damage close to where sewer lines are buried
You may also notice uneven toilet water, which is another possible indication of sewer issues. One other sign you could benefit from, at least, an inspection by a plumber in Raleigh, NC, to find out if there are any problems is if you have older sewer pipes. This is especially true if those sewer lines are close to mature trees, which increases the risk of tree root damage.
What You Can Expect with Sewer Repair
A camera inspection is typically done first with any sewer-related issues. It's a quick, easy, and non-intrusive way to look deep inside sewer lines without exploratory excavation. During a sewer pipe line repair, the results from the initial inspection allow the affected area to be clearly determined. Our technicians also assess the condition of the sewer line to confirm what approach to repair is suitable. When repairs are made, efforts are made to keep disruptions to your property as minimal as possible. You can also expect our team to leave no trace of our work once everything is done.
Why Hire Us
Backed by more than 15 years of residential plumbing experience, reasons to feel good about taking advantage of our sewer repair services include:
We're a family-owned and -operated business
All work is done by licensed, experienced local technicians
We provide respectful, courteous service from start to finish
Your satisfaction guaranteed with our work
Give Our Sewer Service Experts a Call
If you suspect you may have residential sewer issues in Raleigh, NC, reach out to Optimal Plumbing Solutions. Rest assured that our plumbing company provides honest, clear answers so you can decide what's appropriate for your needs. Contact us today to start with a video inspection of your sewer lines. We also specialize in quality water heater repair in Raleigh, NC.